Date: February 2021
Client: Animated Objects Theatre Company
The Odyssey is a three-year program of events and activities that residents, businesses and visitors can get involved in, contact Animated Objects Theatre Company for all the latest updates and ways to join in with 'A Thousand Ships'.
'Helen of Troy – the face that launched a thousand ships' (Christopher Marlowe)
To represent the fleet of a thousand ships we are bringing together a collective artwork featuring paper ships that have been folded by members of local communities along the Yorkshire Coast and Animated Objects Theatre Company will be releasing details of where you can see the thousand ships later in the summer.
If you would like to see how the ships are made, please take a look at the video below:
The paper ships are all made on specially printed origami paper created by artists based on the Yorkshire Coast. Each image is inspired by the coast and can be folded in different ways to produce a range of completed ship designs.
Bridget Wilkinson (Staithes):   'Catch of the Day'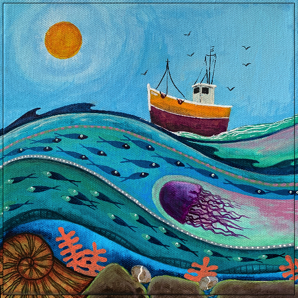 "My inspiration comes from the local environment and the love of the coast and the sea."
Bridget is a full-time painter and mixed media artist, living on the edge of the North Yorkshire Moors National Park in the seaside town of Whitby.
Living on the coast constantly gives Bridget the ideas and inspirations for her paintings, creating bold, colourful works, in her own unique style.
Her work is fast becoming collectable both locally and nationally.
Pip Leckenby (Scarborough): 'North-South Round'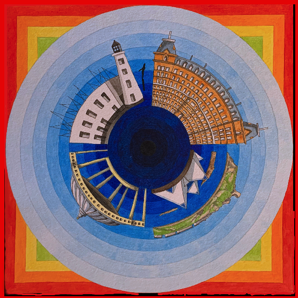 "To me, there is no better view of Scarborough than that across the South Bay to the lighthouse with the castle on the headland behind, fishing boats bobbing in the harbour surrounded by lobster pots. The echos of busy Victorian summers reverberate around the Grand Hotel, standing solid and bold above the beach. The Spa Sun Court dreams of summer days, deck chairs lined up on the checkerboard tiles, people snoozing in the sun whilst listening to music. The modern pyramids of the Sealife Centre nestled in the North Bay, a calm haven for many a watery creature. The bright vibrant colours of the beach huts call to kids building sandcastles as they eat melting 99's."
Pip trained in Theatre Design and Allied Crafts at Croydon College where she won the Cliff Bayliss Award for Design.  She moved to Scarborough in 1996 to work at the Stephen Joseph Theatre, first as Design Assistant, then working her way up to Resident Designer. During her time there she designed over 40 productions: lunchtime shows in the theatre restaurant including Tissue Paper for the Soul and The Anniversary Waltz; Christmas shows such as Mr A's Amazing Maze Plays and Paribanou; Ayckbourn premieres including Orvin-Champion of Champions and Life and Beth some of which went on to tour the UK; Ayckbourn plays Private Fears In Public Places and Neighbourhood Watch which crossed the Atlantic to be part of the Brits off Broadway season at 59E59 in New York.
Pip has also worked frequently with Hull Truck and John Godber through the years, designing many shows including Bouncers, Say it with Flowers, The Office Christmas Party, Wuthering Heights, Sold, Debt Collectors, Losing The Plot and Funny Turns which opened Hull Trucks new theatre on the Ferensway in 2009.
She has also worked with Dark Horse Theatre Company: Sing Something Simple and Snake Bite working alongside learning disabled actors. The latest of their shows The Garden was reimagined as an audio piece last year for which Pip supplied accompanying illustrations.
Currently, she is working on the designs for her third panto at The Theatre Chipping Norton Rapunzel.
A keen narrowboater, Pip has spent the last six years cruising the British inland waterways with her partner Mick and cat Tilly.
Stacie Hicks (Hornsea): 'Preservation'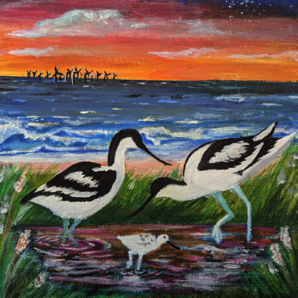 "I'm very proud to live in an area which considers preservation to be an important part of life.  I have painted a family of avocets, a bird brought back from near extinction by a local sanctuary. They are painted to a backdrop of one of the spectacular sunsets we are lucky enough to be treated to regularly on the east coast.
To continue the often-contradictory theme of preservation, I included the new Hornsea Wind Farm, which will be the largest of its kind in the world when completed. I wanted to highlight that, although the wind farm is helping the environment, it's also a threat to wildlife and organisations like the RSPB are campaigning against it.
There are unfortunately no easy answers but I feel very proud to say my local area is tackling them.
From a very young age, I found a love for art and that excitement never seemed to fade. I get captivated by all the forms it can take and all the debates and controversy it can strike. As a tattooist of six years, this is something I know all too well.  I think art is something we should hold with such importance and nurture as it's a side of life that can really lift us from the mundane and take us anywhere."
Jo Witney (Whitby):   'Mud Larking'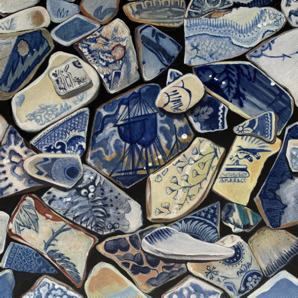 "My new favourite hobby is mud larking, basically as it sounds, I spend my time up to my shins in mud off the various slipways in Whitby looking for anything interesting. My design is inspired by various pottery finds while mud larking.
I have been living and working in Whitby since 2002. After spending many holidays at my Grandmother's cottage in Robin Hood's Bay as a child, I had fallen in love with the area and fortunately managed to persuade my husband Pete that it would be a good move. We brought a fledgeling signwriting business with us and over the years have tackled a wide variety of projects, from small house signs to large murals with the occasional mosaic thrown in!
Sometimes I get to do a painting of my own (time, work and children permitting) but more recently with more time on my hands than usual I have discovered my new favourite hobby. I had read a fantastic book about mudlarking the River Thames by Lara Macklem. She describes hunting along the Thames foreshore for pottery, glass, tiles, toys, jewellery old coins and anything else interesting. Makers' marks, colour, design and lettering give clues to a fascinating history – a snapshot of peoples' lives going back sometimes 100s of years. I no longer live near the Thames (I am a North London girl) but there is the River Esk running through Whitby.
I had never thought of looking on river beaches before though I have been beachcombing for years. As the Esk is tidal new things are discovered each visit and the anticipation of what you might find is thrilling.  My favourite finds to date is a small unbroken green bottle, round with a long neck. It probably held perfume once upon a time. One thing you will find wherever you go, whether coastal beach or river beach, is blue and white pottery, often times the 'willow' pattern. My painting for the Thousand Ships project shows some of the pieces I have collected. I had been thinking about what to do with them and it occurred to me they looked great as they were, so I just picked up a brush and started to paint. They were very good models….didn't move at all!
I think it may be the first of many such paintings, as my collection is growing (I already have storage issues) and I am completely hooked."
Kirsty Davis (Whitby): 'Intertidal'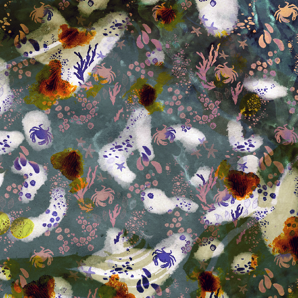 "My entry for 'A Thousand Ships' is based around 'rock pools'. My work brings attention to these miniature yet important habitats that decorate our coastline by highlighting them as their own ecosystem and the aura they hold. The basis of my image is built up of expressive Plein air marks. Working en Plein air is essential for capturing a sense of place but also refers back to the long and popular tradition of artists taking vacation along the Yorkshire Coast.
A bit about me…
I grew up in the seaside town of Whitby located just off the North Yorkshire Moors. Both the sea and the surrounding area of the national park have a big influence on my work. I graduated with a BA (Hons) in Illustration with Animation at MSoA, after which I moved back to the North East Coast where I carried on my creative career volunteering in community projects, and working as a freelance artist."

Charlotte Hill (Cloughton): 'Scarborough Scope'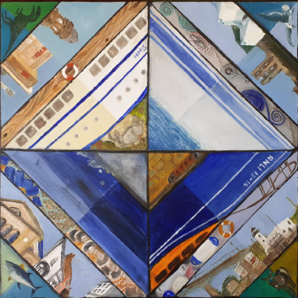 "My inspiration comes from familiar scenes from unusual perspectives and exploring colour, shapes and details we miss when we don't look up, back or don't look closely. The relationship between nature and manmade elements in the landscape.
Initially inspired by the shapes created in the paper by folding a boat and the idea of design being seen in its folded form also made me want to create something that, by hiding elements of the design, becomes something very different when folded."
Charlotte produces art and design work in a variety of different styles and has experience using traditional mediums and digital techniques, often using a mixture of both. She started her career in the fashion industry, in garment and print graphics design and has gained experience with other arts and crafts through her professional work including painting, drawing, paper and textile crafts, graphic design, costume and accessory design and making.
Her work over recent years has included a lot of arts and crafts based workshops in schools and at events, as well as commissions for crafts, artwork and designs, although in the last year her creative time has been mostly consumed with getting involved with community projects.